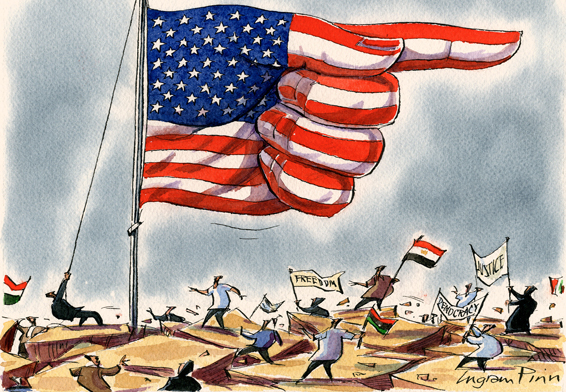 Ts&Cs and Copyright Policy for more detail. Email ftsales.support@ft.com to buy additional rights. http://www.ft.com/cms/s/0/f4837046-d67b-11e1-ba60-00144feabdc0.html#ixzz21miQMhsz
In this young century, the 9/11 attacks, the global financial crisis and the unrest in the Arab world have struck at the heart of vital US interests. If Americans want the tectonic plates of the international system to settle in a way that makes the world safer, freer and more prosperous, the US must overcome its reluctance to lead. We will have to stand up for and promote the power and promise of free markets and free peoples, and affirm that American pre-eminence safeguards rather than impedes global progress.
The list of US foreign policy challenges is long and there will be a temptation to respond tactically to each one. But today's headlines and posterity's judgment often differ. The task at hand is to strengthen the pillars of our influence and act with the long arc of history in mind.
More
On this story
On this topic
IN Opinion
In the Middle East we must patiently use our aid, expertise and influence to support the creation of inclusive democratic institutions. The fundamental problem in the region is the absence of institutions that can bridge the Sunni-Shia divide, and protect the rights of women and minorities. Even as we make necessary immediate choices – including arming the Syrian rebels – we must insist upon inclusive politics. The US cannot afford to stand aside; regional powers will bring their own agendas that could exacerbate confessional divisions.
As we work with reformers across the region, we should not forget that Iraq has the kind of institutions that are meant to overcome these divisions. Given its geostrategic importance, the chaos engulfing its neighbours and Iran's destructive influence, our re-engagement with Baghdad is sorely needed.
The US needs to turn again to the development of responsible and democratic sovereigns beyond the Middle East. The George W. Bush administration doubled aid spending worldwide and quadrupled it to Africa. It channelled assistance to countries that were investing in their people's health and education, governing wisely and democratically, building open economies and fighting corruption. Ultimately, these states will make the transition from aid to private investment, becoming net contributors to the international economy and global security. US tax dollars will have been well spent.
We must also not lose sight of how democracy is solidifying in the western hemisphere. US assistance and trade policy can help democracies in Latin America to provide an answer to populist dictators. At the same time, we must speak out for dissidents – from Cuba to Venezuela to Nicaragua. Mexico needs attention across a broad agenda that includes the devastating security challenge that threatens both it and the US.
The US "pivot" to Asia (a region that had hardly been abandoned) has focused heavily on security issues. America should remain the pre-eminent military power in the Pacific. But consider this: China has signed free-trade agreements with 15 nations over the past eight years and has explored FTAs with some 20 others; since 2009 the US has ratified three FTAs negotiated during the Bush administration and it has continued – but not concluded – talks on the Trans-Pacific Partnership, which began in 2008. One of the US's best assets in managing China's rise is its regional economic engagement.
A robust free trade policy will strengthen our economy and influence abroad, as will developing our domestic resources, such as the North American energy platform. High oil prices empower Venezuela, Russia and Iran. We are developing alternative sources of energy but they will not replace hydrocarbons for a long time. It is a gift that much of our demand – possibly all of it – can be met domestically and in co-operation with US allies, Mexico and Canada.
Most important, we need to reassure our friends across the globe. The rush to court adversaries has overshadowed relations with trusted allies. Our engagement with Europe has been sporadic and sometimes dismissive. Strategic ties with India, Brazil and Turkey have neither strengthened nor deepened in recent years. Hugo Chávez and the Iranians have bitten off the extended hand of friendship. There is no Palestinian state because it will only come through negotiation with a secure Israel that is confident in its relationship with the US. The decision to abandon missile defence sites in Poland and the Czech Republic, to "reset" relations with Russia was pocketed by Vladimir Putin who quickly returned to his anti-American ways. Friends must be able to trust in the consistency of our commitment to them.
Finally we cannot forget that strength begins at home. Global leadership rests upon a strong economy built on fiscal discipline and robust private sector growth. Ultimately, our success depends on mobilising human potential, something the US has done better than any country in history. Ours has been a story of possibility, not grievance and entitlement. Ambitious people have come from all over the world to seek out the opportunities America provides. The absence of a humane and sustainable national immigration policy threatens this great asset.
Our talent has historically come from every part of American society, without regard to class and economic circumstance. But when a child's zip code determines whether she will get a good education, we are losing generations to poverty and despair. The crisis in US education is the greatest single threat to our national strength and cohesion.
The American people have to be inspired to lead again. They need to be reminded that the US is not just any other country: we are exceptional in the clarity of our conviction that free markets and free peoples hold the key to the future, and in our willingness to act on those beliefs. Failure to do so would leave a vacuum, likely filled by those who will not champion a balance of power that favours freedom. That would be a tragedy for American interests and values and those who share them.
The writer is a former US secretary of state
Copyright The Financial Times Limited 2012. You may share using our article tools.
Please don't cut articles from FT.com and redistribute by email or post to the web.
Comments